ADVERTISING AGREEMENT
Online Advertising Agreement Terms and Conditions
PoshMag.net allows advertisers to advertise in this Sites. When you place an advertisement in this Site, you agree to be bound by these Online Advertising Agreement Terms and Conditions.

Agreement
These Terms and Conditions together with the Order Form constitutes a binding agreement between the advertiser identified on the Order Form ("Advertiser") and PoshMag.net. The Agreement may not be assigned or transferred by the Advertiser. PoshMag.net requires payment in advance for all advertisement.

Advertising
Except as otherwise expressly provided, positioning of advertisements is at the sole discretion of PoshMag.net. Advertiser acknowledges that PoshMag.net has not made any guarantees with respect to usage or statistics for any advertising. To the extent PoshMag.net provides Advertiser with estimated usage it does so only as a courtesy to Advertiser and shall not be held liable for any claims related to usage.

Limitation of Liability and Warranty Disclaimer
Liability for typographical errors, wrong insertions, late publications, and/or non-publication, or other non-performances is limited to the amount charged to the Advertiser byPoshMag.net. In no event shall PoshMag.net be liable to Advertiser or to any third party for any indirect, special, or consequential damages, including but not limited to lost profits or unrealized business opportunity arising out of this agreement or the publication of or failure to publish any advertisement.

Indemnification
Advertiser assumes all liability for content of advertising and agrees to defend, hold harmless, and indemnify PoshMag.net from all claims, losses, judgments, damages, costs and expenses of any nature whatsoever, including but not limited to reasonable attorney fees, for which PoshMag.net may become liable by reason of its publication of the Advertiser's advertisements.

Termination
PoshMag.net shall be entitled to terminate this Agreement with or without cause. In the event of termination under this paragraph, PoshMag.net shall refund or credit Advertiser for the unused pro-rata portion of the price of the advertising purchased.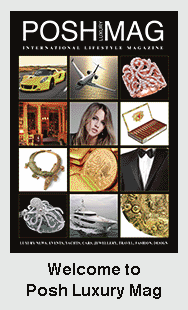 Copyright © PoshMag.Net - All Rights Reserved
Posh Luxury Mag

Terms of Use

Privacy Policy

SiteMap